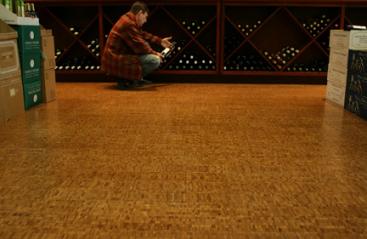 PlybooSquared Bamboo Flooring
PlybooSquared bamboo flooring is a mosaic-like flooring option offered by Plyboo.
This end grain orientation gives the appearance of squares, which give a fresh edge to sustainable architecture and design. Use PlybooSqaured end grain bamboo floors in your home or office for a unique twist on bamboo flooring.
PlybooSquared is available FSC® 100% certified and PlybooPure (no added urea-formaldehyde, NAUF). Color options for PlybooSquared bamboo flooring are: Amber, Natural, Foundation Brown, and Luminous Grey.
Technical Product Information:
Certification

FSC® C012079
The material in this product comes from well-managed forests, independently certified in accordance with the rules of the Forest Stewardship Council™.

SCS-FS-02130
SoyBond products have been certified by SCS Certification Systems to meet the indoor air quality standards of FloorScore®.

Material

100% bamboo
Standard sizes

5/8" x 4" x 36"
Finish

Multi-coat Polyurethane or Unfinished
Fire rating

ASTM E648 Critical Radiant Flux, Class 1
Hardness

ASTM D1037 Janka Ball Hardness Test
PlybooSquared: 1,639 lbf
LEED® credits

IEQc4.3: Low-Emitting Materials - Flooring Systems (no added urea-formaldehyde, NAUF)
MRc6: Rapidly Renewable Materials
MR 7: Certified Wood
Weight

50lbs per box
LEED® Credits Possible:
IEQc4.3: Low-Emitting Materials - Flooring Systems (by special order only)
MRc6: Rapidly Renewable Materials
MRc7: Certified Wood (flooring, by special order only)
PlybooSquared flooring can be special ordered FSC-certified and NAUF, and FloorScore®-certified