Our new customizable Fractal wall panels… and the Fractool.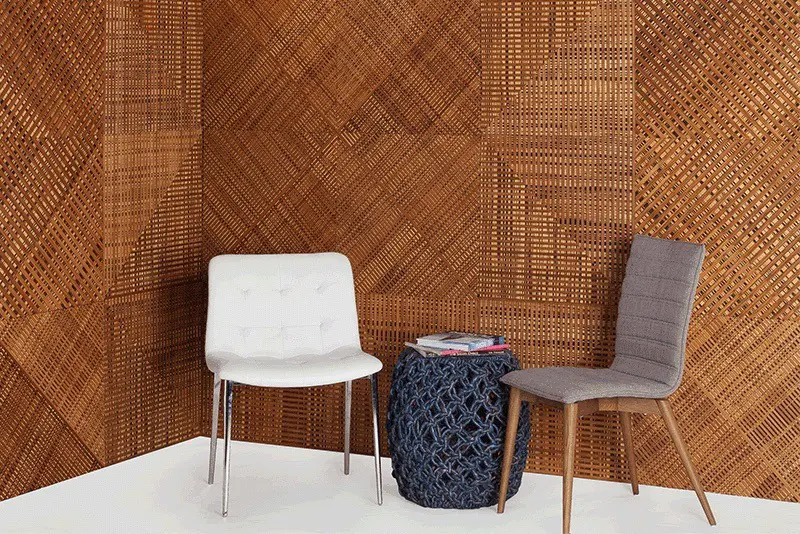 Formally debuted at this year's Dwell On Design show in Los Angeles, our new Plyboo Fractal panels are some of the most visually stimulating products we've introduced in a while. Part of the same range of carved panels as our Reveal™, Linear™, Linear Sound™ and Sound™ wall panel products, Fractal panels are completely customizable architectural panels whose design utilizes the isosceles triangle.
Fractal panels, when combined with the online Fractool, comprise one of the most revolutionary new product concepts we have introduced. The client now—whether an interior designer, contractor or consumer—has full control over the design of a wall installation and all of this can be done on-line, on the client's time.
What is the The Fractool? It's a proprietary online design tool we've developed that resides on the Plyboo website. It produces a photographic image of a wall of Fractal panels, custom configured by the user, along with a blueprint of how to assemble and install it, and a price that includes delivery. There is really nothing like it in the industry. It's extremely easy to use whether you are a novice or professional designer.
Fractal panels are fabricated using Plyboo RealCore bamboo in dimensions of 24"x24"x34" (610mm x 610mm x 864mm). Available in many colors including natural, amber, fog, mist, greige and noir, these colors can also be used in combinations with a wide range of surface patterns. Designs are offered unfinished, or with a natural, oil finish.
If its reception this past month at Dwell On Design is any indication, the design community has already embraced this unique new panel and wall system app.