Creative approaches to interior design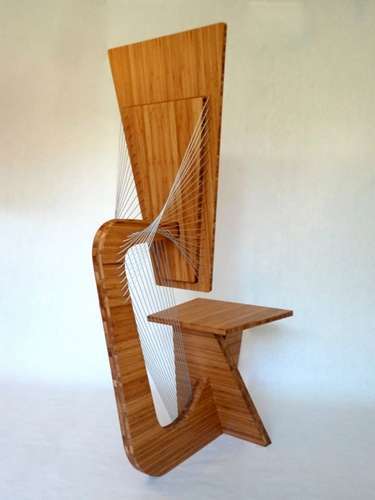 In order to really help your home stand out from other dwellings, it's important to step out of your comfort zone every once in a while. Taking a risk in interior design by utilizing creative approaches can leave you with an inspiring and striking design. Here are a few ways to think outside of the box when it comes to your home's style:
Hanging swing chairs
It's no secret that chairs normally sit on the ground. But what about hanging a swing chair from the ceiling instead? It's a modern and playful way to offer seating, whether it's in your living room, sunroom or bedroom.
Ceiling decor
Not many people think of the ceiling when it comes to decorating, but this area of a room is often underutilized. Apply a coat of bold-colored paint to draw the eye up and help pull the color scheme in the room together. A gold ceiling, for instance, can provide an accent of glamour and sophistication. You can also consider wallpaper and stencils to provide a custom look to any room in your home. Bamboo lumber is great for exposed modern ceiling beams, which can emphasize architectural details, bring warmth to a room and create a beautiful focal point on your ceiling. Highlight the bamboo with recessed track lighting and create repetition throughout the rest of the room with bamboo flooring or panels.
The same goes for your floors. Nobody ever thinks to wallpaper or paint the floors, well, because they're not walls. But you can add visual interest by painting a pattern of thick stripes of a stained floor to really pull the whole room together in a dramatic way.
Glam up unexpected areas
In a formal dining room, a sparkling chandelier hanging from the ceiling might be expected. But in a rustic, country bathroom, a glamorous chandelier above your freestanding tub would certainly be unforseen. You don't always have to combine luxury with luxury – try blending a number of different styles, like modern with traditional and industrial with rustic.
Use unpredictable items
You can fill your home with appealing and unique decor simply by using unpredictable items in each room. For example, instead of the traditional wood railing lining your stairway, try using nautical rope for a beachy, seaside feel. And in your living room, replace your TV stand with an easel to help open up wall space and provide an artsy aesthetic. One homeowner even used her chandelier in her living room to hold onto notes, directions, sketches and lists.