Out-of-the-box items to use as your coffee table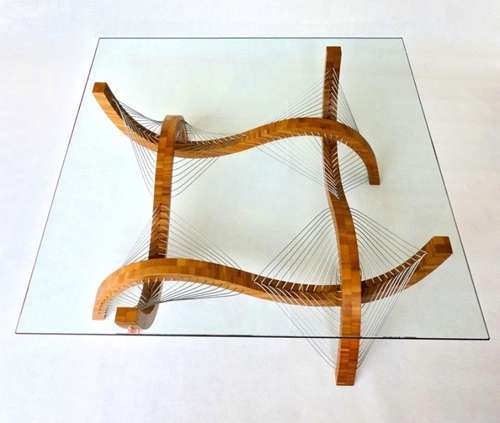 Coffee tables are a must-have for any room – they create a focal point, contribute style and provide necessary storage space for items like magazines, books and TV remotes. However, your coffee table doesn't have to be made from a traditional slab of wood. Achieve a modern design in your home with any of these unique coffee table ideas:
Surfboard
Give your beach house a burst of modern color by repurposing a surfboard into a coffee table. It gives any room a relaxed feel and contributes to an island aesthetic. It's also a fun way to add character into the space and really make it your own.
Bamboo
Show off your architectural style with a coffee table constructed using bamboo lumber. This material is eco-friendly and extremely durable. Plus, its rich color makes it perfect for a contemporary space and it blends well with a number of other hues. Opt for a glass surface above the bamboo structure to keep the focus on the architectural details of the fast-growing material.
Trunk
Have an old trunk lying around the house? Consider bringing it in your living room to provide plenty of storage space and a beautiful focal point for the room. If your trunk has a vintage design, but you have a modern living room, you can refinish the piece and paint it a solid white color for a refreshing take.
Bench
If the layout of your living room allows, you can use bench seating in place of a traditional coffee table. It can be used to put items on display, and when you have company over, it can be cleared to provide extra seating space.
Cubes
Cubes, otherwise known as poufs, are very useful for your living room. They're similar to ottomans because they're cozy, but they're also great for providing hidden storage. Place a tray atop the soft surface to hold coffee table items like vases of flowers, books or TV remotes.
Wine crate
Add some country elegance to your modern living room by using a wine crate, or multiple wine crates as a coffee table. Give it a glossy finish to match the contemporary aesthetic in your home. A wine crate can also work as the base of your coffee table – simply place a framed mirror on top to reflect light and provide a glamorous spot to display a collection of candles, magazines or books.