Lighting ideas to highlight decor and architecture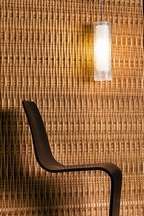 From bamboo flooring and wall panels to open shelving and wall art, there are always lots of elements to highlight in a room to really bring out the style of the space. Proper lighting is essential to not only provide sufficient illumination, but to set a mood and draw attention to decor and architectural pieces. Never overlook the importance of lighting in any space, whether it's a tech startup office, a yoga studio, a home or a restaurant. Here are some helpful tips to ensure you get it right:
Know the different types of lighting
Combining different types of lighting throughout a space can help to create the perfect glow to highlight various decor items.
Ambient: This type of lighting is also known as general lighting and casts a comfortable brightness throughout the entire room. This is the primary light source in a space.
Task: You'll use task lighting for specific functions. For instance, you might install track lighting under your cabinets to make it easier to prepare food. Task lighting is also perfect for reading nooks and grooming areas in a bathroom.
Accent: You have accent lighting as well, which can produce a decorative and artistic effect. You can use this type of lighting to highlight your bamboo wall panels or any paintings or sculptures in a space. Whatever you would like to be the focal point in a space, use accent lighting to draw attention to the object.
Natural: Natural light is of course the light that streams in from windows or skylights. But this type of illumination can also include candlelight and firelight. The location of your windows can have an impact on the overall mood of the room. For instance, a west-facing room often receives strong, warm light in the evening, which produces an orange glow. But an east-facing room gets brighter light in the morning, producing a white shade.
Blend with decor
There are so many different styles of light fixtures from which to choose. You'll always want to make sure the fixture you select complements the decor throughout the space. For instance, if you have a modern office complete with bamboo flooring, contemporary furniture and a subdued color palette, you hang industrial pendants from the ceiling or attach sleek and modern wall sconces to contribute to the contemporary design style.
Use enough light
Some rooms only have an overhead lighting source that doesn't give off enough light and often creates shadows in certain areas of the room, making it difficult to see. Make sure that whatever space you're renovating, you opt for at least three to five different light sources to create layers of illumination that properly show off architecture and interior design.