5 storage ideas for your basement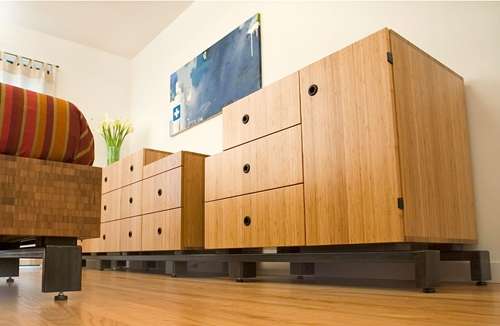 Your basement is the perfect area in the home to gather with family, entertain and just lounge around. But if the space is filled with lots of clutter, the basement can't be properly enjoyed. Here are a few unique storage solutions that will help you clear away the mess:
Under-stair cabinets
Use your basement's lower staircase wall as a display/storage area with built-in cabinets slanting downward alongside the stairs for a unique look. This storage method not only gives you plenty of room to store your things, it doesn't take up any floor space by taking advantage of the staircase. Use the same stain and color on your shelving that's on your stairs to help everything blend together.
Open shelving
If you have lots of books to put on display but not enough space to store them, fill the walls of your basement with open shelving. This makes everything easy to find and showcases books in a visually pleasing manner. Instead of using traditional wood for your shelving, opt for bamboo lumber instead. It's a much more durable material, not to mention that it's eco-friendly and available in just as many shades and textures. Bamboo lumber will be able to withstand heavy books stay looking as good as new for years.
Entertainment center
Surround your basement's TV with an entertainment center. This creates a focal point around the television and allows for plenty of room to store basement essentials such as books, movies, remote controls, pictures and other decor. San Francisco-based company Smith & Fong offers bamboo lumber that would be perfect for the job. The Neopolitan finish combines both light and dark bamboo for a striking addition to your entertainment center.
Clear plastic bins
Fill clear plastic bins with your children's toys so that your little one can easily identify what toys are in which container. This type of storage is always preferred over cardboard boxes, which can become damp in the basement and attract mold and rodents. Store the bins under the stairs or in a nearby closet to keep them out of the common area.
Bar cart
Don't have room for a full wet bar but need space to store your wine and spirits? All you need is a small bar cart. Tuck it in a corner against the wall – it won't take up much floor space, but it will put your favorite glassware on display, along with other entertainment essentials like coasters, shot glasses, cocktail recipe books and more.