5 top kitchen trends to consider for your home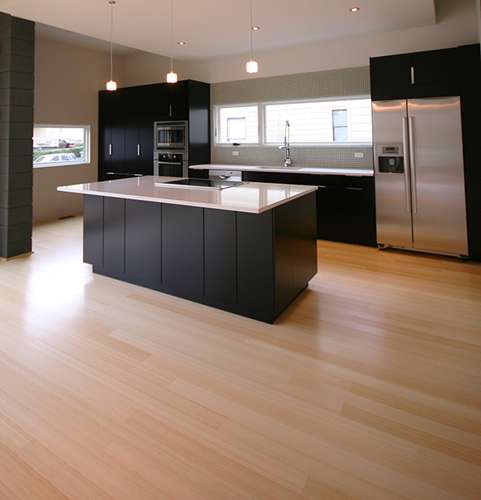 Kitchen trends are constantly changing, and the year 2014 is all about innovative surfaces and materials that are stylish and work with your lifestyle. Ensure that your kitchen is up to date on all the latest and greatest trends by implementing these design ideas:
Eco-friendly lighting
Being eco-friendly in the kitchen doesn't just mean conserving water and recycling. You can help out the earth with the lighting you have installed. Whether your kitchen is filled with pendants, under-cabinet lights, track lighting or accent lighting, always be sure to use energy-efficient LED lights. You can even consider using LED lighting inside of cabinets to brighten up dark areas and help you find kitchen tools fast.
Decorative tile
Create a colorful and decorative focal point in your kitchen with an ornately designed backsplash. This popular kitchen feature will help wow your guests and incorporate the perfect accent of color. There are a number of patterns and designs from which you can choose – opt for an intricately designed Mediterranean pattern or go with simple strips of glass tile. Backsplashes that are heavy in details go well in traditional kitchens, while more simple designs lend themselves to a more modern or contemporary kitchen. The rest of your kitchen design should be kept minimalistic to really help put a focus on the backsplash.
Natural wall materials
Instead of painting your kitchen walls, consider implementing natural materials such as exposed brick, stone, wood or bamboo panels. San Francisco-based company Smith & Fong offers three different lines of bamboo paneling – all with warm, rich tones and intricate patterns. Their Linear Line reflects the texture of a woven textile for a great accent to a modern kitchen. Highlight the design on your panels with pendants or track lighting.
Black countertops
Create a sleek, sophisticated look in your kitchen by installing black countertops. Granite or quartz are both timeless options and would contrast beautifully with a cool white interior as well as other bright hues like blues, corals and reds. Choose between a glossy or matte finish, depending on the overall design aesthetic of the space.
Copper
Copper is making it big in 2014 when it comes to kitchen design. This warm metal is being used for kitchen hoods, accessories, utensils and more. When designing with copper, stick to a monochromatic color palette to create a cohesive look. You can pair copper with similarly hued bamboo floors, chairs, countertops and panels.