Fresh upgrades to make in your kitchen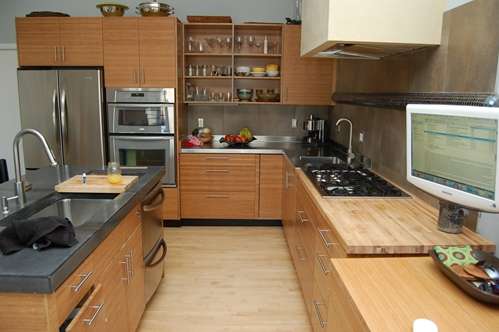 Is your kitchen in need of a fresh look? Beat the winter blues by giving the space a bit of life. There are a few easy ways to revamp your kitchen and give it a whole new look. Here are a few ways to improve the heart of your home:
Install bamboo panels
Bring life to your kitchen by installing bamboo paneling around the island. It creates a beautiful focal point in the space and is an eco-friendly material. Bamboo grows quickly, and without the need of any fertilizers or pesticides, making it a great choice for the kitchen. San Francisco-based company Smith & Fong offers bamboo panels that are free of formaldehyde, an odorless, colorless chemical that is often found in common building materials. Bamboo panels are available in various textures and colors so you can easily coordinate them with other kitchen elements like flooring, dinnerware and decor.
Hang pendant lamps above the kitchen island to highlight the textured panels and give you enough light to properly prepare and cook food.
Put herbs on display
Freshen up your cooking and your kitchen design at the same time by planting various herbs in pots and putting them on display near your windowsill. They will help bring lots of flavor to your dishes and color to your kitchen.
Upgrade your tile backsplash
You don't have to go through a complete renovation of your backsplash in order to give it a new look. Search for tile decals which are adhesive stickers that come in various sizes, shapes and colors to bring life to your kitchen. Once you're ready for a new design, you can swap them out for a fresh pattern.
Remove cabinet doors
Something as simple as removing the doors on your upper cabinets can instantly help to open up your kitchen and make it appear more spacious. Arrange the items in your cabinets in an organized fashion because they will be easily seen by all.
Replace hardware
Switching out your cabinet pulls for different hardware can instantly transform your kitchen. Look for a varied shape and finish than what you had before, but make sure your selection blends well with your cabinets, flooring and color palette.
Fill your walls with color
A coat of fresh paint can work wonders for creating an entirely new space. With the passing of time, your walls can accumulate dirt and grime, so clean them and wwipe on a new color to construct a bold kitchen. You may even want to use wallpaper to bring both color and pattern to the room for some serious energy.