Do's and don'ts of modern decorating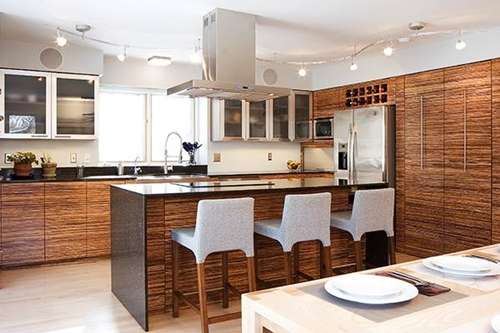 Decorating your home certainly isn't clear-cut – much of it is combining trends with your own personal style. But there are certain rules that you should always adhere to if you're trying to stick to a contemporary design. Following these do's and don'ts can help your home look fresh, modern and stylish:
Do use color sparingly
While a traditional modern design often embraces a neutral color palette, feel free to introduce pops of color here and there. To avoid overpowering the room with bright shades, choose small items to fill the space with color, such as dinnerware, vases, wall art, throw blankets, rugs and lampshades. Rustic oranges, reds and yellows contribute a cozy vibe, while blues, greens and purples can give your space a touch of freshness.
Don't be afraid to mix and match
Matching everything in the room isn't always the way to go. Switching it up can create visual interest and bring character to the space. For example, combine your bamboo flooring with exposed brick walls, a fuzzy fur throw across the couch and stainless steel pendant lights. While they're all made from vastly different materials, they blend together to create a space filled with character and modern flair. The stainless still brings a cool factor to the room, while bamboo flooring warms up the ambiance with cozy color and laid-back texture.
Do emphasize simplicity
When it comes to contemporary interior design, less is more. There should be a focus on clean lines, geometric shapes and neutral colors. Make sure kitchen countertops are always cleared off to draw attention to the modern design rather than the clutter. Strip down each room to the bare essentials to have a space that is both clean and stylish.
Don't rely on overhead lighting
Never underestimate the power of lighting to showcase your home's modern design. Merely having one bright overhead light won't do the trick. The space will end up resembling an interrogation room. Instead, your best bet will be to combine layers of lighting. This way, no harsh shadows will be produced and the room will be filled with an inviting softness and warmth.
Do go green
Your environmentally conscious lifestyle can easily be worked into a modern design project. San Francisco-based company Smith & Fong offers bamboo flooring that boasts a beautiful modern aesthetic and is friendly to the environment. Bamboo is a rapidly renewable resource and releases about 35 percent more oxygen into the air than similar-sized trees.
Consider filling your home with bamboo panels as well, which are available in a wide variety of colors and textures. They contribute to a modern design and blend beautifully with other contemporary materials like brick and stone.