Breathe easier at night with these eco-friendly bedroom design ideas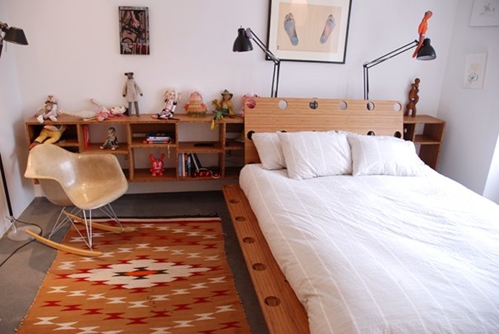 You spend a lot of time in your bedroom, most of which involves sleeping. According to the American Time Use Survey, the average American age 15 and older spent an average of eight hours and 44 minutes sleeping per day. That adds up to quite a lot of time in the bedroom. And that isn't counting the hours and minutes you spend in there talking on the phone, eating or just hanging out.
This is why it's important to keep an eye on the air quality in your room. Breathe easier at night by considering any of these design essentials for your room:
Bamboo bed frame
One simple and inexpensive change you can make in your room is replacing your bed frame with one constructed using bamboo. San Francisco-based company Smith & Fong offers a line of bamboo lumber that's available in a wide array of colors. This makes it easy to match the rest of your room's design. Bamboo is also extremely durable. In fact, it's stronger than most hardwoods, so you can sleep easy at night knowing your bed frame will last through the years. Bamboo is also better for the air – it produces more oxygen and absorbs more carbon dioxide than trees do. The material is free of any formaldehyde, which is commonly found in many construction materials.
Ceiling fan
A ceiling fan not only helps keep you cool in humid weather, it circulates the cold and hot air in your room to help you sleep better and even help you save money on energy bills by assisting with the air conditioning. However, you must make sure to regularly clean the fan, because it tends to attract dust mites and other allergens.
Low or VOC-free paints
Volatile organic compounds​ (VOCs) are actually found more frequently indoors than outdoors and are emitted by products like paints and lacquers. They produce smog-forming chemicals into the air that contribute to poor air quality. Make sure that the paint lining your walls is completely free of any VOCs. You can also get low VOC paint which helps produce cleaner air as well.
Bamboo sheets
Swap out your traditional cotton linens for bamboo bed sheets and pillowcases. This environmentally friendly fabric is extremely soft, resembling cashmere or silk. But it gets better – The fine weave of the texture helps adjust to your body temperature to keep you cool or warm. Bamboo linens also have a natural antibacterial quality and are hypoallergenic, making it easier for those with allergies to sleep comfortably.