Creating a more effective conference room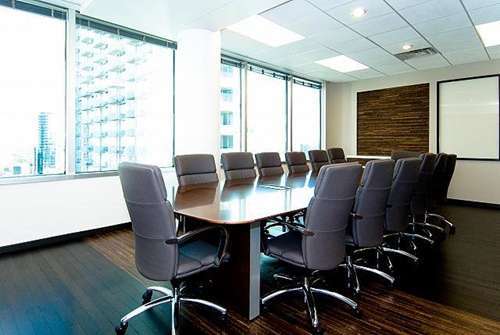 Many companies use conference rooms for office lunches, client meetings, presentations, business calls and more. It's a space that's consistently being used at all times of the day, so it's essential that the room is as functional and effective as it can be. When designing your conference room, include these essentials to enhance the beauty of the space and help employees to be as productive as possible:
Bamboo flooring
You want the flooring in your conference room to be able to stand up to high traffic, as it's likely people will be going in and out of it during most hours of the day. San Francisco-based company Smith & Fong offers Stiletto Strand bamboo flooring, which is three times harder than traditional wood flooring. Plus, it has been proven to reduce noise and even has the power to relieve leg stress – making long presentations much more comfortable.
Panels
Bamboo panels not only create a more modern and stylish meeting room, they contribute to the effort to reduce ambient noise. Smith & Fong's PlybooSound line of bamboo panels are designed to work in large open work spaces to ensure that everyone can clearly hear each other.
Natural light
In order to keep employees as alert and productive as possible, natural light is necessary. It brightens up the space and saves money on electricity by eliminating the need to turn on overhead lights during work hours. If your conference room isn't located near any windows, install a combination of diffused fluorescent fixtures and indirect candescent lights in the space. Both options allow for a dimming feature so you can control the level of light that's in the room.
Comfortable seating
Nobody is going to want to sit through a long meeting in an uncomfortable chair. Make sure that each seat has proper cushioning and adequate back support. But comfort also means having the appropriate amount of chairs at the table. You don't want to have seats positioned too closely and cause each employee to be elbow to elbow. There should be enough room between these chairs for people to get up and move around with ease.
A neutral color palette
While bold colors certainly aren't out the question, it's best to stick to neutral shades. This won't distract from meetings or video calls with clients, but it gives the room just enough modern style. Blend together beiges, tans and pale grays. You can add in splashes of color using artwork or lampshades, but you be the judge as to how much it affects the overall aesthetic of the room.