Achieving your vision for a cozy coffee shop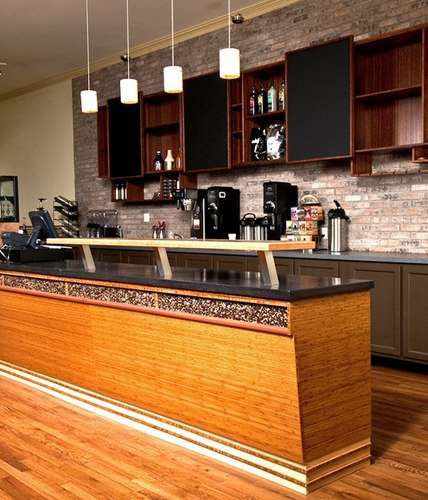 A coffee shop is where people go to refuel and relax. Some customers are in and out, only stopping in for coffee or a latte, while others choose to stay while they read a book, catch up on the day's news or get some work done on their laptop. But it's not just your tasty coffee that can bring in customers – the ambiance in your shop has a lot to do with the success of your business. Create a welcoming, cozy and warm retreat in your coffee shop with these design tips:
Install bamboo flooring
Bamboo floors not only offer durability and a modern elegance, they come in plenty of warm shades to help create an environment that welcomes customers into your establishment. San Francisco-based company Smith & Fong provides bamboo flooring that is formaldehyde-free to promote better indoor air quality at your coffee shop.
Blend urban touches
Coordinate your bamboo floors with cool contemporary and natural elements like exposed brick or stone. It gives your shop an urban look and blends well with the warmth of your floors. A chalkboard wall would be another nice touch to your decor, while giving you a creative way to write out the specials.
Keep the customers in mind
In order to keep your customers coming back, you have to keep their needs in mind. Many bring in laptops, so it's essential to have several outlets near the seating areas where your customers can charge their devices. Seating should also be comfortable and supportive, as your patrons are likely going to be sitting there for a long period of time.
Don't underestimate lighting
Lighting can easily make or break a cozy atmosphere. Your customers aren't going to want to spend time reading or completing work in a dimly-lit coffee shop. Make sure there is adequate lighting above each set of tables and chairs. The lighting shouldn't be too harsh – it should offer a warm glow for a warm and inviting atmosphere.
Support local artists
Don't leave the walls of your coffee shop blank! Fill them with beautiful works of art from local painters to bring color and personality into the space.
Offer reading materials
A shelf made of bamboo lumber will match your flooring, add to the modern aesthetic and offer a place for you to store books and magazines. Customers can reach for these reading materials when they're waiting for their coffee or enjoy them when they're sipping on their beverage.