How to work with a white bathroom design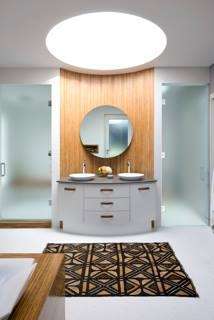 White is a great color for bathroom designs. It is fresh, bright, and allows you to add elements of color that reflect your style and really pop against a pale canvas. Whether your style is traditional or modern, glamorous or understated, here are some ways to achieve an updated feel in your bathroom.
Fresh flooring
The color white is the perfect canvas for a contemporary bath. Pair it with bamboo hardwood flooring and modular fixtures like a deep, stacked sink and minimal accessories to keep the look clean and streamlined. The light tones in bamboo hardwood blend seamlessly into an updated bathroom design, and the natural texture and warm colors accentuate the way white can reflect light around the room.
Updated accents
Paint the cabinetry in your bathroom white for a new, clean feel and accessorize with hardware that keeps it looking light. Lucite handles are one option that add a modern feel to the face of your cabinets. Try steel handles or knobs for a more futuristic look. Or, for a touch of sparkle, opt for glass or even mirrored knobs, which will pick up the light and add some glamour to your space.
Pops of color
White bathroom designs are the perfect backdrop for bright and exciting pops of color. Whether you choose framed prints to adorn your walls, or fun and funky accessories to decorate your countertops, the possibilities are endless! Leave your shelving open to showcase colorful accents. Or let your linens stand out by matching them to your chosen accent color to pull the whole look together.
Bring in blooms
Another way to adorn a white bathroom is with fresh flowers. Choose brightly colored blooms that will stand out in your bright white room and they will add a romantic element to your special space. Pink roses add a feminine feel, and emerald green succulents look fresh and modern. Flowers can energize any room in your home, and your bathroom is no exception.