4 ways to highlight your bathroom's modern tub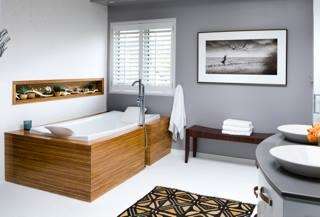 Freestanding bathtubs are becoming increasingly popular in the world of modern design. Their sleek lines and polished finish help create a serene and beautiful environment. Many homeowners choose to make their tub the focus of the room for an attractive and up-to-date aesthetic. Here are a few ways to highlight this crucial piece in your bathroom:
Bamboo flooring
Tile may be the traditional choice for modern bathrooms, but there are other options that are even better. Consider installing bamboo flooring into the space. These floors provide a warm and inviting look to your bathroom, and its shade contrasts wonderfully with your stark white tub. Bamboo also offers an urban elegance and a soft, neutral palette which is easy to pair with other decorative elements in the room. This natural material helps offset the sleek, cool, contemporary features of polished chrome faucets and drawer pulls, while adding a touch of comfort.
Simple colors
Opt for a monochromatic color palette in your bathroom to keep the attention on your tub. Whites, blacks and grays are all popular hues to use. However, this isn't to say that you can't add splashes of bright hues here and there. Using a bath mat, linens or wall art, choose one outstanding color to pair with the rest of the neutrals in the space. It gives your modern bathroom the perfect amount of boldness while still sticking to a modern style. You can also consider incorporating some patterns into your bathroom, like stenciled paintings or an accent wall featuring striped wallpaper.
Windows
Place your freestanding contemporary tub near a window where natural light can stream in and highlight all of its features. This sunlight also creates a warm and welcoming ambiance in your bathroom, and helps to soften all of the geometric lines and angles in the space. You may even want to consider installing some French doors in your bathroom to help open up the room even more by letting in lots of light.
Lighting
While the sun's natural rays are sufficient during the day, they can't be the only source of light in your modern bathroom. Install a vintage glam chandelier above your tub to produce adequate lighting. A contemporary bathroom can always be blended with more antique pieces to create the perfect harmony of old and new. Plus, a chandelier won't give off harsh lighting while you're in the tub – instead, you'll be receiving a warm glow that only contributes to the tranquil environment.