Let your cabinets be your canvas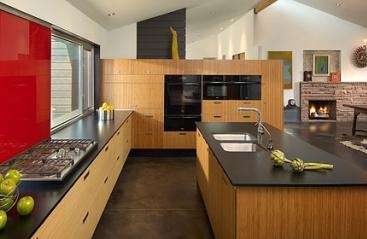 Decorating your custom cabinets is a quick and easy way to change the look of your whole kitchen. Many different options are available to anyone who wants to add their own creative touch to their space.
Paneling
Plywood or veneer panels are beautiful and unique options for updating your cabinetry. Bamboo panels can be applied to the face of your cupboards or kitchen island for an exotic feel and rich texture that will add dimension to your space.
Paint
Paint can change the mood in a kitchen easily and inexpensively and is a fun way to express yourself without totally remodeling your space. Hundreds of paint options for cabinets exist and you can choose one to match your favorite theme, a precious heirloom or a piece of furniture.
Mullions
Mullions are slender pieces of wood that are used to create divisions on cabinet doors and are often found in "C" or "X" shapes that add a striking pattern to the face of your kitchen. Another way to update the look of your cabinetry is to add mullions to the doors. Mullions installed on glass cabinet doors provide an interesting element to the look of your cabinetry and the shelves within, and when added to wood doors they create a texture that can mirror the shape of the cabinet itself.
Finishes
Highlighting can be used on panels, moldings and other architectural accents using a controlled airbrushing technique. Stains and finishes help to highlight the beauty and uniqueness of wood cabinets, and there are several different options to chose from to fit your style. Patina is another method of accenting the grain of the wood by applying a glaze and allowing it to set. Antiquing is also a popular trend that features unique brush strokes on the wood that give each piece a unique look.