How to choose the right cutting board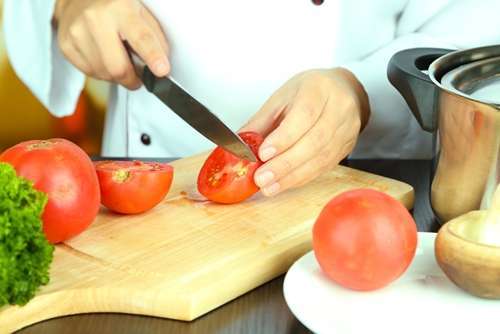 Customizing your kitchen accessories is an important step in making your kitchen an efficient and fun place to cook. One important and functional element in your kitchen is the cutting board. Countless options are available to you to reflect your style or blend into your kitchen design, so how do you choose? Here are some tips to help you select the right one for you.
Bamboo
Bamboo can be found in cabinets, flooring and even cutting boards because of its growing popularity due to its sustainability. Bamboo is an extremely eco-friendly material, and anyone interested in going green should be aware of its benefits as a cooking tool. Bamboo cutting boards are very low maintenance because they resist retaining water and do not crack or warp like traditional woods can. Bamboo is also very dense and does not tend to scar from knives or other cooking utensils, so it is considered very sanitary because bacteria has nowhere to grow.
Plastic
Cutting boards made of plastic have their own unique benefits. They are often lighter than wooden boards and thus are easier to maneuver around the kitchen. They can be washed in a dishwasher, unlike wood cutting boards, but they don't have the same bacteria-fighting ability.
Hard woods
Some examples of hard woods that can be found as cutting boards are maple, teak and acacia. These woods are considered to be very high quality because they are not porous like other materials, so they absorb less water and bacteria. These special woods also fight bacteria when they come in contact with the surface, which helps prevent disease – an added benefit. Wood is also gentler on blades than plastic, which may dull their edges over time.