Incorporate an ancient metal in your design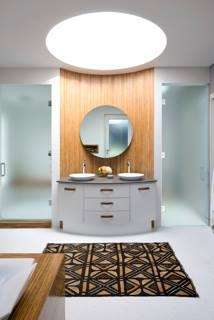 Bronze is an ancient metal that been around for thousands of years. Its warm tones can be a subtle complement to any piece of custom cabinetry. Bronze can be treated with different methods to bring out its age-old beauty and add a lovely look to the wood in your home.
Complementary colors
Bronze's subtle variations in tone help to bring out the rich texture of the wood you have chosen in your room. Bamboo flooring or cabinetry is an excellent option to pair with bronze because it comes in different natural varieties of color that pick up the tones in bronze's patina. Bamboo is an eco-friendly, sustainable material, and you can continue that eco-friendly  trend by shopping for antique bronze accessories to reuse or repurpose.
Accent tiles
Tiles for the backsplash ​on your kitchen or bathroom walls can also be found with bronze accents. These are lovely pieces to incorporate into your custom kitchen design because their color will evolve from taking in moisture from the air or from constant contact as you clean or cook. These tiles complement natural stone, rich woods and neutral color schemes.
Drawer pulls, knobs and handles
Bronze pulls and handles are enduring pieces of hardware. They will stand the test of time and can emphasize the warmth and beauty of the wood grains. Natural bronze is considered to be a "living finish" because it slowly transforms over time. Bronze can evolve from its coppery tone, develop a patina and appear green or yellow in some places, adding to its depth and dimension. An oil-rubbed finish to your bronze hardware will also maintain its living finish and allow it to change over time because it will oxidize and absorb moisture to create a unique look.