How to choose a light or dark kitchen design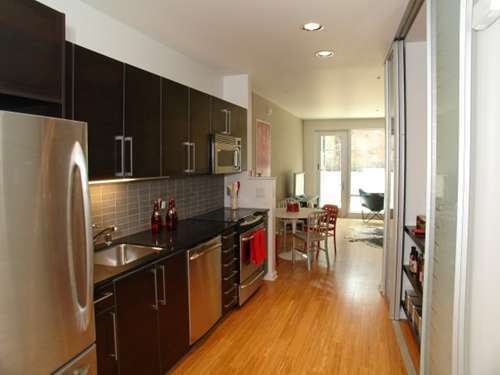 Whether you are going for a complete kitchen remodel or just looking to update your style, there are some trends to consider. One way to reflect your personality with kitchen design is to opt for either light or dark cabinetry and flooring. Bamboo is a natural choice because it is available in different colors. But which one best fits your style? Here are some helpful tips to guide your decision.
Bright, light vibe
If your kitchen is on the small side, consider choosing light colors to create the illusion of space. White paint can help create the feel of a larger room because it reflects light. Match the cabinet color with the countertops and ceiling paint, and the walls will appear to recede. Bamboo flooring in warm, light tones will carry this bright feeling through the room and really make you feel like you're in a bigger space.
Ceramic tile and stainless steel are also your friends if you are trying to enlarge a small kitchen. Reflective surfaces amplify the effects of light in your room, making it seem larger. Install some lights under cabinets to improve functionality and brighten your space.
Deep, dark style
Dark cabinets or flooring in your kitchen can create a sophisticated space with timeless appeal. Deeper tones in the wood can really make the color in your kitchen pop, so pair cabinet doors with sleek steel knobs or handles that will stand out. Bronze hardware will create an antique, Old World appeal against black cabinets. Dark flooring also makes lighter countertops look fresh and bright. Black paint will conceal any scuffs or marks, but opt for semi-gloss paint that has enough of a sheen to reflect colors around your kitchen so as not to absorb all the light, keeping the space cozy but bright.