New trends in wall panels and paper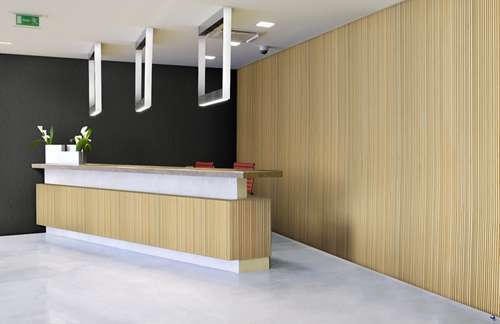 Today, designs for wall panels and wallpaper are taking a new, modern direction. With unique options and patterns available, there are countless ways to express your personality with paneling.
Fabric as inspiration
Wallpaper and panels can now be found in a variety of different textures, some that mimic the look and feel of fabric. One way to achieve an impressive textured look is by using bamboo panels.
Vertical lines of bamboo create a natural, harmonious feel, and many different color and tone options are available. This new and exotic way to decorate is attractive for all the senses and allows you to bring natural elements into any space.
Some panels that look like slate or brick are also available. The contrast of shiny surfaces and matte areas adds depth and dimension to any wall or an entire room. Flocking is a process used to create wallpaper by depositing small fiber particles onto the surface of the paper and new, sophisticated patterns are available. From striking geometric patterns to rich, luxurious colors like burgundy or teal, the opportunities to match your room's design are endless.
Retro vibe
Many updated wallpaper options are inspired by designs from the '30s, '50s, '70s and '80s. Modern colors and metallic elements bring these designs into 2014. Polka dots in wasabi green, denim prints in oceanic blue, or even street-style graffiti are just some examples. Colors and designs on different wallpapers can be mixed and matched to create an interesting focal point for your room.
Photomurals
Another creative trend in paper and panels available for homeowners and decorators is that of photomurals. These pieces come in several sections that cover an entire wall. World maps, beach and forest scenes and floral patterns are just a few of the options. Some companies will even create a custom photomural using a favorite scene that you provide.