Bring natural elements into your bathroom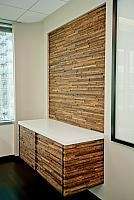 Elements from nature can bring a sense of peace and tranquility to any room in your home, and your bathroom is no exception. Try some of these tips and tricks to update your bathroom area and create a relaxing space for you and your guests.
Bamboo backsplash
The beautiful tones of bamboo are a popular choice for modern bathroom designs. Its light colors tend to blend seamlessly into contemporary decor features and it is available in different styles. Bamboo reeds lined up create an organic feel, while woven bamboo acts as an exotic focal point. A bamboo backsplash is usually easy to install and can complement any style with a tropical flair.
Let the light shine in
Letting more sun into your bathroom is another great way to make it feel lighter, brighter and more comfortable. Sunlight is a natural energizer and can make the colors in your bathroom really pop. Install sheer window treatments to avoid blocking the light, or if you don't have neighbors, take the treatments off to enjoy the view outside. If your bathroom is located on a shady side of the house, solar tubes are a good alternative and can be installed on your roof to absorb the natural light and spread it around.
Garden inspiration
These days, there are many options for bringing live flowers and plants into your home that don't require a lot of attention. Potted plants like succulents and cacti can add a healthy pop of green in your bathroom, and a decorative vase of fresh flowers will instantly make you feel energized.
Create with paint
The easiest way to give your bathroom a natural facelift is to add color. Choose a tone inspired by nature, like sky blue or a bright, vibrant green. Painting an element in your bathroom – like one wall or just the doors of your cabinetry – a bright color will change the feel of the whole room. You can even coordinate your bathroom linens, like towels and shower curtains, to match.