Improving the look of your basement's wet bar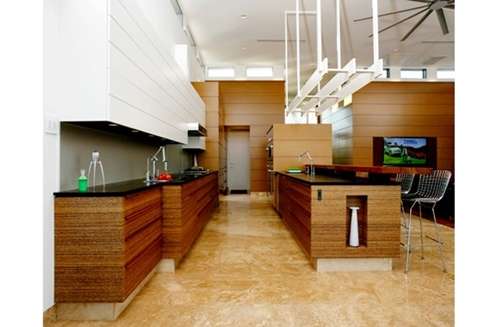 If you love to entertain, it's important to have an area of the house where guests can sit back, relax and have a drink. The basement is a perfect place for a wet bar. You and your guests can head downstairs for a drink before you watch the big game or a swanky cocktail party. But before you have any visitors over, consider revamping your wet bar with these ideas:
Put drinks on display
You're going to need a place to store all of your wine bottles, so why not put them on display in your wet bar where they can double as a work of art? You can use bamboo lumber to create a wine storage rack on the wall. Bamboo is the perfect material for this project because it's a sturdy and durable material that will be able to hold multiple wine bottles with ease.
San Francisco-based company Smith & Fong offers bamboo lumber in a number of beautifully constructed colors and textures. Choose a shade that matches the style of your wet bar and all of its accessories. The wine rack should complement things like the cabinets, floors and countertops.
Bamboo countertops
A wet bar needs countertops that can withstand moisture and remain durable over a long period of time. Bamboo lumber can also be used to create countertops that are dependable, ensuring that you won't have to replace them after a few years of use. Bamboo appears just as luxurious as hardwood, but is a better material because it's rapidly renewable. Opt for a dark, rich color like Havana for a formal, elegant wet bar. If you want something more casual, look for a lighter hue, like natural or Sahara.
Reuse corks
For every bottle of wine that you pop open, be sure to save the cork. When you've built up a collection, you can transform those corks into unique decor for your wet bar. Cork is such a versatile material to work with. You can turn them into coasters, a monogram letter for the wall, drawer knobs or wine charms to pass out to all of your guests.
Chalkboard panel refrigerator
Cover the front of your fridge in chalkboard panels for an urban touch to your wet bar. You can use this feature when guests come over to list the drinks or appetizers you have available for the evening. When visitors aren't there, meanwhile, you can use it as a way to remember what you need to stock your wet bar for your next night of entertainment.