Improving the look of your home's stairs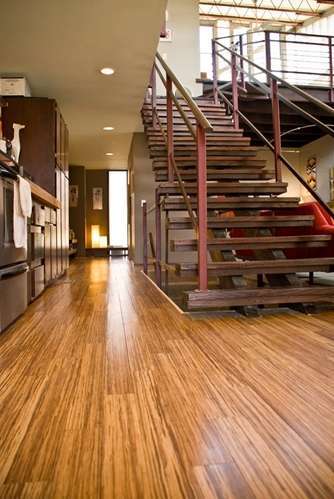 Stairs are often found in the entryway of homes, so they're likely the first thing that visitors see when they head into a house. As such, stairs directly contribute to the first impression made about the rest of the home, so it's important that they give off a vibe that blends with the rest of your interior design. In order to turn your staircase into the main event of your entryway, try these techniques:
Stair nosing
Give your stairs the finishing touch that they need with luxurious stair nosing, which is the projecting edge of the top of each stair. San Francisco-based company Smith & Fong offers stair nosing in a variety of shades and textures that are applied to the forward edge of stairs or landings. Bamboo is a durable material that can take the high traffic that usually occurs on stairs without getting scratched or scuffed. The stair nosing gives your entryway the finished look of elegance that it deserves. Choose a shade that coordinates with the rest of your home for a cohesive feel.
Decorative molding
Enhance the look of your walls around your staircase with decorative molding. This stylish accouterments can easily contribute to the aesthetic of your stairs, whether they follow a modern, vintage or traditional look. Even the most simple molding can provide the perfect touch to your entryway.
Combine white with dark
For a dramatic contrast, use rich wood-colored stairs and railings and display it against bright white walls and molding. Such opposite hues work extremely well together and suit a formal, luxurious home design. Light-colored bamboo can help open up a small space, while darker colored stairs are often used in larger homes.
Take advantage of under-stair space
Don't let the space under your stairs go unused. There is so much that can be done with the area that can help enhance the look of your staircase. Transform it into a reading nook with plenty of comfortable seating, pillows and adequate lighting, use it as a closet or storage space – or incorporate a small, but fully stocked wet bar. The way you use the space under your stairs is entirely up to you, but make sure that it serves a proper function for the room that it's in. A closet may work best for an entryway to store coats and shoes, while basement stairs may work best for a bar or a reading nook. If you don't have enough space for a traditional closet, you can use rows of bins, cubbies or drawers.