2 ways to reach your goals of getting healthier in the new year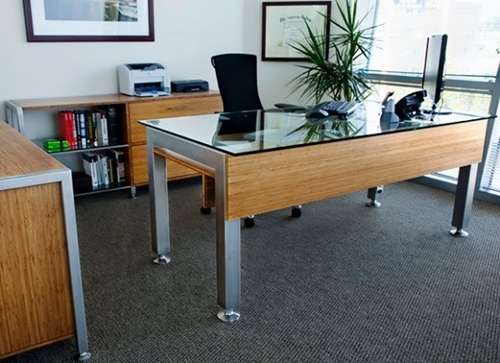 With the start of a new year upon us, everyone's thinking up resolutions they can accomplish in the coming months. One of the most common aspirations is getting healthier, whether that entails losing weight or eating better. Of course, getting healthier can mean much more than that. The environment, for instance, largely contributes to your body's health. One environmental facet that affects your health is air quality. You want to make sure that you're breathing clean air. Things like cigarette smoke, bacteria and mold can pollute indoor and outdoor air, causing allergic reactions and sometimes asthma and cancer. If you wish to do your part to create a more sustainable environment, consider incorporating more bamboo into your surroundings.
Bamboo panels
Americans spend a large portion of their time at work, whether it's a home office or storefront. In fact, according to the U.S. Bureau of Labor Statistics, employed people aged 25 to 54 spend an average 8.8 hours working per day. The remaining time is spent sleeping and participating in leisure activities. If you're spending that much of your day at work, you're going to want to be in an environment that is healthy.
Bamboo panels can actually help make the air in your office more fresh and clean. San Francisco-based company Smith & Fong offers a special line of bamboo panels known as SoyBond. These panels are formaldehyde free, helping you and those around you breathe cleaner air. Formaldehyde is found in many building materials that are used to produce household procuts. It has a number of negative health effects on the body. According to the United States Environmental Protection Agency, inhaling this colorless chemical can cause issues with the eyes, nose and throat, some of which have even been linked to lung and nasopharyngeal cancer.
Bamboo flooring
Not only will bamboo flooring help you create a healthier environment in your home or office, it also provides a warm and beautiful style to enhance the design of the space. Smith & Fong boasts seven different types of bamboo flooring, making it easy to find the exact tone and texture for which you're searching. One style of flooring you may opt for is the Stiletto Strand flooring. It's available in six stains and finishes and is certified by the Forest Stewardship Council, which is a nonprofit organization dedicated to forest management.
Another bamboo flooring option is Durapalm. This sugar and coconut palm flooring is known for its look of luxuriousness without sacrificing sustainability. In fact, this material is recycled and used later as an alternative building material.