4 ways to modernize your office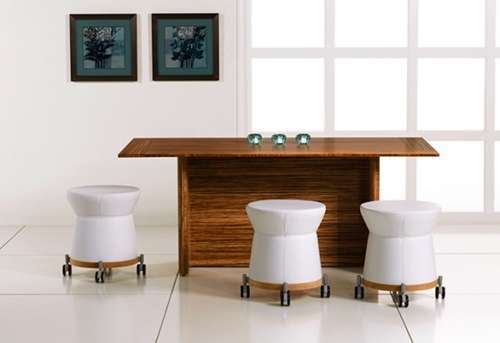 An office that has well-thought-out and visually appealing interior design is likely to produce a more welcoming environment for all of the employees and clients who enter. A modern style is very popular among offices for its trendy feel and simplistic design. If you're after this contemporary vibe in your office space, consider any of these style ideas:
iPhone bamboo charger doc
Keep your phone fully charged and easily accessible to take any business calls using an iPhone dock. The Chisel 5 is a dock that is constructed using bamboo, an extremely environmentally friendly and contemporary-looking material.
Bamboo lumber
In order to create an office that is both welcoming and modern, consider swapping out your current desks for desks constructed with bamboo lumber. Not only is bamboo extremely durable and beautifully made, it's a rapidly renewable resource, making it great for the environment. San Francisco-based company Smith & Fong offers a variety of bamboo lumber that you can use to build anything from desks and conference room tables to chairs and bookshelves for a modern-looking office.
Remove clutter
A minimalist style is perfect for a modern office. Minimalism is just how it sounds – it only includes the essentials in the design and is always free of clutter. Therefore, you want to make sure that there are no disorganized areas of your office. File away papers in cabinets or drawers, leaving only the essential supplies out on your desk. It will add to the modern style of your office.
Make use of natural light
The lighting in your office can largely contribute to the overall design aesthetic. If you're after a modern office, make sure to let in as much natural light as you can. Not only will this help highlight your beautiful office design, but this light can actually help to improve performance in the workplace. According to a study published in the journal SLEEP, there is a link between daylight exposure and quality of life. Workers with more light exposure not only got a better night's sleep, they also experienced a higher productivity level.
When it gets dark in the office, have plenty of task and ambient lighting to provide a glow that is soft and welcoming, rather than harsh. Update any wall sconces or fixtures to bring better light into the space.