4 ways to improve your crossfit gym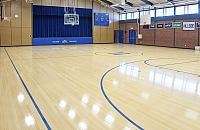 Crossfit is one of the latest fitness phenomena and is what many people swear by to get in shape. It combines plyometric jumps with weight lifting exercises using kettlebells, sandbags and suspension systems. Participants also do a variety of squats, hip hinges and rotating movements to gain strength and improve their cardiovascular system.
If you're looking to create a CrossFit gym or improve upon the one that you already own, here are a few tips to help attract and maintain customers:
Bamboo flooring
Not only is bamboo flooring a natural way to enhance the interior design of your gym, it offers many health benefits to your customers as well. San Francisco-based company Smith & Fong has a line of PlybooFit flooring which is constructed out of bamboo. This is entirely different from traditional wood flooring and offers many more benefits. You want your clients to feel comfortable during their workout, and these floors can greatly contribute to their gym-going experience. PlybooFit floors take pressure off of tired joints, like the knees ankles and hips. Keeping their joints healthy means your customers will be able to come in day in and day out. Look for bamboo floors that coordinate with the decor that you're going after, whether that's a modern crossfit facility or a more traditional one.
A talented coaching staff
Without knowledgeable and experienced coaches, you're not going to be able to give your customers what they're searching for. Having coaches and trainers that are certified in CrossFit can be a big selling point for your gym. These trainers should also be personable and very good at interacting with clients and being able to figure out what their body is capable of.
A positive environment
One of the biggest influences in helping your clients reach their goals is a positive and uplifting environment. Nobody wants to work out in a space where they are constantly put down or feel like they're not good enough. You should be advertising a space that is welcoming to all, whether you're new to crossfit or have been doing it for years.
A spacious gym
Your crossfit gym should always be clear of clutter. Nobody is going to want to work out at a gym that is super messy and disorganized. People should feel like they have all the space they need to get in a good workout and achieve the results they're after.