Create the perfect acoustic space for your quiet business with PlybooSound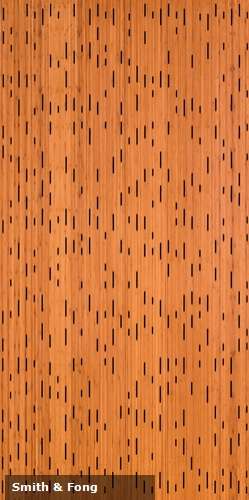 Spaces like libraries and coffee shops are frequently visited locations known for their quiet and relaxing environment where people can study or simply relax. However, your choice of wall and floor paneling could be affecting the noise level in your place of business.
San Francisco-based designer and manufacturer of eco-friendly bamboo products Smith & Fong has come out with a new collection that is perfect for reducing noise. The PlybooSound bamboo panels have a natural elegance to them, equipped with sound-proofing technology to greatly reduce any ambient noise. The RealCore technology assures you that this is as stable as any other material, with exposed cores and bi-directional construction. The collection is available in eight different patterns and colors to fit whatever design you need.
The environment will also be happy with your choice of wall paneling, as Plyboo sound can help your business contribute toward three LEED credits. It's made from 100 percent Forest Stewardship Council​-certified bamboo, which is not only renewable, it's free of urea-formaldehyde.
Here are a few places of business that could greatly benefit from the PlybooSound bamboo paneling:
Restaurants
Restaurants can get particularly noisy, especially on the weekends. The main reason people go to dinner is to talk to those around them, whether it's a family gathering or a first date. Customers are going to be much more likely to choose your eating establishment if they can actually hear each other speak while enjoying their meals. Senior citizens would especially benefit from the PlybooSound collection and its QuietWall Technology. With age, it can be harder to pick out specific sounds, and these walls will make it easier to socially interact with others.
Libraries
If you've ever been in a library when someone is talking, you know how much that noise can transfer and bounce off the walls. It makes it hard to study, read or relax. But with bamboo paneling, you can be rest assured that readers and students alike will find solace in your building. The QuietWall technology is equipped with sound-dampening material applied to the wall or ceiling, depending on the application.
Coffee shops
In order to attract customers, coffee shops often have to have a trendy design style and offer a quiet environment to sit and sip on your cup of joe. Bamboo fulfills both of these requirements, with a sleek design that can double as artwork as well as a noise-reducing resource.