Decorating rooms with bamboo flooring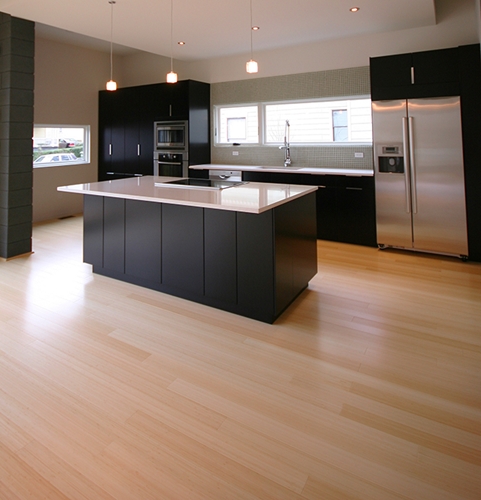 Bamboo flooring can be installed virtually anywhere – in an office, a restaurant, a yoga studio or a home. This flooring material is quickly gaining popularity not only for its natural beauty and versatility, but for its eco-friendly qualities. It also offers a similar look to hardwoods like oak, walnut or pine, and comes in any shade from dark to light, but for a much more affordable price.
Once you install your bamboo floors, it's important to consider how to decorate the interior of the room to properly coordinate with the flooring.
Use other bamboo elements
You can't go wrong incorporating other bamboo elements into your space. Consider installing exposed ceiling beams with bamboo lumber, using bamboo panels to create an accent wall or even using bamboo window shades. When deciding what color to paint the walls, opt for a fresh yellow or green to complement the natural tones of the bamboo. You can also consider a more neutral palette, like taupe, tan or walnut.
Go modern
While bamboo flooring can be transformed to fit any design style you have in mind, it presents a very modern and sophisticated feel, so it's important that the rest of the room match that design aesthetic. Rich, dark bamboo floors give off a feel of elegance – consider pairing these floors with a lighter wall color, like a cream or ivory, and incorporate light-colored furniture as well, which will stand out nicely against the dark-colored floors and create a dramatic contrast. If you would rather go with a darker color on the wall, make sure the shade is rich enough to stand up against the deep tones of your bamboo floors. To stick with the contemporary theme, add splashes of color throughout the room by adding throw blankets, pillows, a rug or wall art.
For a more natural look, opt for bamboo floors in a blonde shade. Opt for a bold color on the walls, or choose a soft hue that can accentuate the natural warmth that this flooring can emit.
Also, choose a rug that doesn't compete with the flooring – go with a neutral or solid color to complement the decor in the room.
Tie the room together with accessories
When hanging pictures on the wall, use frames that match the floors for a more cohesive look. Houseplants and potted trees also add a nice touch and complement the natural feel of bamboo.