Using exposed ceiling beams in an urban home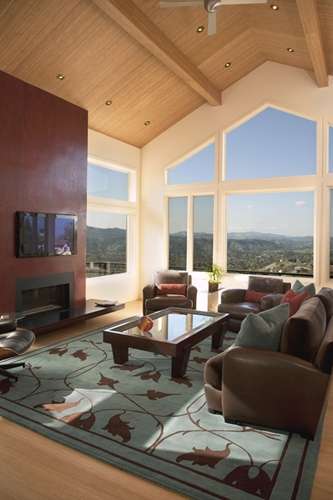 At first glance, it may seem natural to cover up raw ceiling beams for a finished space. But you may want to think twice before covering them up. Exposed ceiling beams are becoming an extremely popular and modern decorative element for homes everywhere. They add a certain warmth and charm to a room – something ordinary ceilings may have trouble accomplishing.
The San Francisco-based company Smith & Fong offers dimensional lumber in a variety of finishes and colors, like natural and amber, as well as edge and flat grain. Bamboo lumber can help to give any room in your house a finished, urbanized look. These beams are also eco-friendly, with no added urea formaldehyde, and are 100 percent Forest Stewardship Council-certified. Here are a few ways to decorate with exposed ceiling beams anywhere in  your home:
Complement the exposed wood
Create a cohesive design aesthetic by matching the bamboo finish on your ceiling beams with a brick fireplace, which also contributes to a modern style. You can add in more bamboo by installing wall panels or flooring to pull the whole natural look together. Incorporating furniture that has the same tones and wood as the beams can help the eye naturally focus on the exposed ceiling.
Finish the beams
You can use a coat of paint to coordinate with the colors in the rest of the room, or you could maintain their original wood design by using a satin or semi-gloss stain. This will help to take the beams up a notch and really offer a finishing touch.
Add pegs
To give your beams an authentic, aged feel, you can drill small holes and knock a few pegs into them. Properly placed pegs can help transform the room into a modern, industrial space.
Hang mirrors
By hanging mirrors throughout the room, you'll be allowing natural light to bounce around the space, making it appear larger. These mirrors will also reflect other parts of the room, including the ceiling.