6 must-haves for a modern bathroom design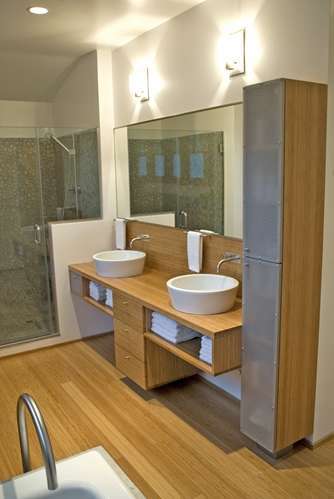 If you're looking for a sleek and clean-lined bathroom, modern is the interior design aesthetic for you. With a modern bathroom, you can get a minimalist simplicity that is both classy and edgy.
This style tends to produce a spa-like ambiance by using upscale amenities like modular storage and stylish lavatories. But in order to pull this off in your home, you must include a few essential design elements.
Backsplash
Bring some visual interest into your bathroom with a backsplash. However, don't choose anything too detailed or ornate, because it tends to date the room. Instead, look for something with clean lines and a simple decoration. Bamboo panels are perfect for your bathroom because they're neutral, fitting in with a wide variety of color palettes, and their design is both simple and contemporary.
Sleek fixtures
It's often the smallest details that can make the biggest difference in your overall interior design. The finish on your faucets, handles and knobs can help to set the tone for the rest of the room. Get rid of any crystal or ornate fixtures and replace them with sleek chrome handles and fixtures.
Linens
When displaying linens in your bathroom, it's best to avoid detailed patterns. Instead, stick with one dramatic hue and carry it throughout the whole space. Mixing and matching hues can tend to distract from the sophisticated design of your bathroom. Contemporary or modern style is all about simplicity. Try selecting one bold color to combine with whites, blacks or grays.
Geometric shapes
Look for details that can provide sleek rectangles and sharp edges. Modern bathrooms often feature these shapes in tubs, sinks and mirrors. A vessel sink atop a contemporary vanity works well with other geometric elements in the bathroom.
Bamboo
"Green" materials are becoming more and more stylish for the bathroom. Many homeowners are selecting bamboo and/or plywood, which is a unique and eco-conscious material that holds up great in modern spaces.The plywood could be used to fabricate many things from shelving units to vanities.
Lighting
Lighting is an often overlooked element of design in the bathroom, but when done right, it can really bring out the refined beauty of your space. Use ambient lighting to illuminate the area under the vanity, on the sides of shelving and as cove lighting on the ceiling to keep it subtle and avoid harsh brightness.