Blending wood finishes in your kitchen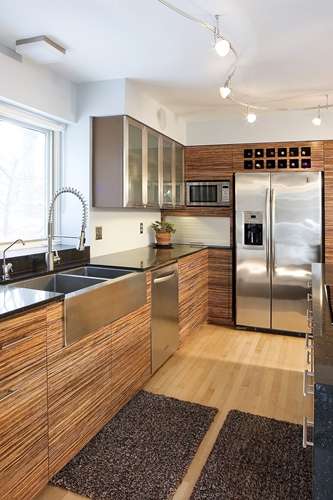 There are a lot of design elements in your kitchen that should coordinate well with one another in order to create a streamlined style. Two of those things are flooring and kitchen cabinets. While they don't necessarily have to match, it's good for them to mesh well together. A layering of various tones, hues and textures can create a visually appealing space. Here are a few things to consider when picking out flooring and cabinets for your kitchen:
Color
The flooring should help balance out the rest of the colors in your kitchen. Darker cabinets tend to work well with slightly lighter-toned floors. The mix of colors keeps things interesting and prevents the room from becoming too monotone or too heavily focused on one hue. Instead, there is a certain balance between the light and dark. And if you have lighter kitchen cabinets, you may want to go darker with the flooring for that same contrast.
If you're not looking for a dramatic contrast, you can try pairing light wood cabinets, like those made out of maple or oak, with bamboo for a similar and cohesive look. In general, if you have a small space, lighter colors and a monochromatic palette help to open up the area. Carrying the flooring into an adjoining room can also help a small kitchen appear to be larger.
Bamboo flooring is perfect for matching with any style cabinet because it's so versatile. It can be coordinated with almost any interior design and is much easier to maintain than hardwood. You can opt for anything from edge-grain planks to a more exotic, striped design containing multiple layers. Bamboo is also incredibly strong, standing up well to constant foot traffic. It can take a lot of pressure from constant use, and dents less often than hard wood.
Style
Ask yourself what style you would like your kitchen to be. Contemporary? Modern? Vintage? Bamboo flooring pairs well with modern-style cabinets that have clean edges or pronounced wood grains. But if you have more of a country-style home, a light oak or honey-hued shade of cabinets can blend in seamlessly with existing decor and flooring in your kitchen.
Patterns
Contemporary kitchen cabinets tend to clash with floors that are too busy. If you have modern cabinets, you may want to stick to something a bit more simple on the floor so as to not overwhelm the interior design.