Modern, environmentally friendly kitchen design ideas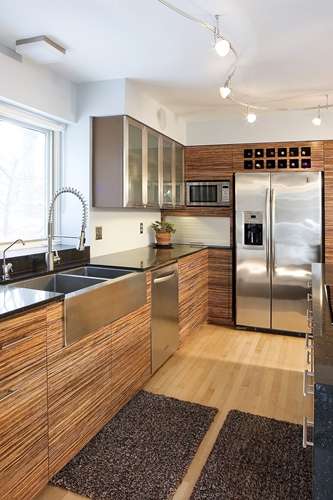 Green and modern design don't have to come separately. There are plenty of ways you can stay eco-friendly in your kitchen while still showing off a sleek and modern interior design. Here are a few easy ways to update your space while still being eco-conscious:
Bamboo flooring
Bamboo floors not only provide a modern design aesthetic, they're also one of the most environmentally friendly floor options you can install in your kitchen. Bamboo is plentiful in supply and simple to replenish. It reaches maturity significantly faster than most trees, which means that when a bamboo forest is cut down it doesn't take decades to grow back, making it a rapidly renewable wood source.
Bamboo is also especially durable, and can easily be cleaned if food or drink is spilled. It also holds up well to heavy and frequent foot traffic, and is far less sensitive to temperature changes than stone or tile.
San Francisco-based company Smith & Fong offers bamboo floors in a wide range of shades and grains to fit the design of your home.
Lava rock countertop
Lava rock is a natural and sustainable material that is eco-friendly, while also being prized for its imperviousness to heat and stains. Those attributes make it perfect for the kitchen. It's available in a shiny or matte ultra-smooth, crackled finish, which helps it blend into any modern kitchen. It's also very low maintenance and durable, and each slab is completely unique, which helps to make for a beautiful space.
Recycled backsplash
Too add some visual interest to your kitchen, opt for glass made from recycled glass bottles. Recycled glass tiles are a much more environmentally friendly alternative to ceramic tiles and offer several benefits in terms of durability, easy maintenance and visual appeal. These tiles reflect plenty of light to make your kitchen appear more spacious. They also resist stains, mold and mildew to contribute to a modern, beautiful heart of the home.
Modern wall sconces
Illuminate your kitchen with a few modern wall sconces, which work particularly well near cooking preparation areas. Also, try using compact fluorescent lighting to go with them. CFLs now come in a variety of bulb sizes and colors, and they improve energy efficiency by about 50 percent.
Organic fabrics
If you want to cover your kitchen chairs with cushions, be sure to use organic fabrics, like organic cotton. It represents a return to safe and sustainable practices. This type of fabric is grown with natural fertilizers and is free of toxic chemicals.