Bamboo panels for yoga studios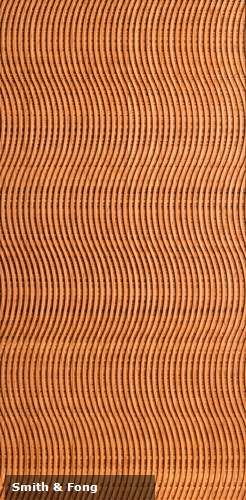 Yoga has become one of the most popular forms of physical and mental exercise in the world. Its mix of bodily exertion and breathing exercises intended to create a balanced spiritual experience have helped to establish yoga as a part of the American workout landscape.
With that growing popularity has come a proliferation of yoga studios, from simple storefront operations to more ornate spaces that use the most innovative techniques in modern design, including bamboo panels, to create a comforting environment that matches the activity taking place within its walls.
Yoga's popularity
According to Statistic Brain, approximately 15 million people in America practice yoga as of July 2013, and about $27 billion is spent on yoga products in the U.S. on an annual basis.
Those are not only remarkable numbers in the aggregate, they also represent dramatic rises from just five years ago. In the past half-decade, spending on yoga products has risen 87 percent, and there has been a 20 percent average annual increase in the number of people who practice yoga.
What's more, that popularity is pretty evenly spaced out across regions and age groups. The West Coast, Northeast and Midwest all have approximately the same number of participants. And the 18-34 and 35-54 age groups each make up a little more than 40 percent of people who practice yoga in America.
Designing a yoga studio
As the practice of yoga continues its rapid rise up the list of American hobbies, designing a yoga studio that stands out from the competition is more important than ever. So if you own or manage a studio, or are considering getting into the business, you'll want to add materials and styles to your space that give it a unique and innovative look.
One way to accomplish that aim is to add decorative bamboo panels, like the Reveal Collection from San Francisco-based bamboo product manufacturer and distributor Smith & Fong. These panels, like the C10 version that is pictured, lend a subtle yet eye-catching aesthetic to any space, and will give your yoga studio an added visual element that won't take away from the overall calming comfort that many studios attempt to instill.
And because the Reveal Collection is made out of environmentally sustainable bamboo, it adds an eco-conscious element to your studio that yoga enthusiasts will likely appreciate since they tend to be more environmentally aware consumers.
If you're looking to add an innovative look to your yoga studio, Reveal bamboo panels from Smith & Fong may be just the thing you need.