Plyboo Sound bamboo panels vie for Interior Design magazine award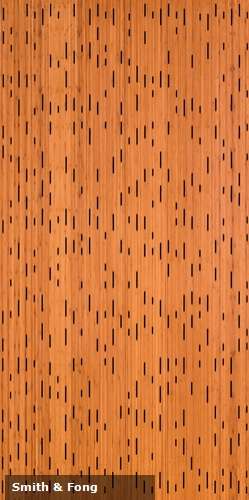 Time is running out to vote for the Interior Magazine Best of the Year awards, and the Architectural Products category has inspired some pretty fierce competition. Among the entrants vying for the prize is the Plyboo Sound line of products from the San Francisco-based designer and manufacturer of eco-friendly bamboo products, Smith & Fong.
While there are certainly several products in the category that are deserving of recognition, Plyboo Sound offers a level of elegance, sophistication, technological expertise and practical benefit that few, if any, of its competitors can match.
What is Plyboo Sound?
Plyboo Sound is a line of bamboo panels that use Smith & Fong's proprietary sound-dampening QuietWall™ technology to help reduce ambient noise. Made from rapidly renewable bamboo that is 100 percent certified by the Forest Stewardship Council, Plyboo Sound panels are also completely free of urea-formaldehyde.
Plyboo Sound also incorporates Smith & Fong's RealCore™ technology and bi-directional construction, both of which ensure that the exposed cores are consistent and that stability is maximized. And it accomplishes all of that while remaining an attractive option for large open work spaces, hospitality venues and other public areas.
The many benefits of Plyboo Sound
Plyboo Sound panels offer a number of advantages – practical, aesthetic and environmental – over traditional wood or composite paneling.
With a Noise Reduction Coefficient average of 0.5, the QuietWall technology allows the panels to reduce ambient noise in public places, an important amenity in today's design world where open floor plans have become the dominant style in many offices and commercial buildings.
They also come in eight different pre-finished or unfinished patterns and colors, and are available in sheet sizes of 4-by-8 feet, with a .75-inch thickness. That diversity of patterns and colors provides a wide range of options when it comes to creating a visually appealing environment wherever the panels are installed.
And Plyboo Sound's environmental benefits are not to be understated. They contribute toward three Leadership in Energy and Environmental Design credits, partially based on their avoidance of urea-formaldehyde.
Although it's a well-known cause of several adverse health effects that impact the eyes, nose and respiratory system, urea-formaldehyde is still used in many construction projects. By eschewing the substance, Smith & Fong has added yet another eco- and human-friendly element to this already impressive product.
Voting for the Best of Year awards closes on Friday, Oct. 11, so be sure to log onto Interior Design's website and fill out your ballot today.