Bamboo is setting a standard in intelligent design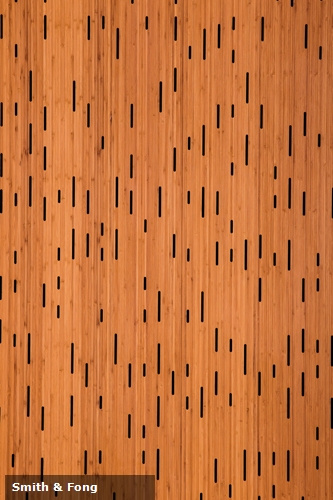 Along with greater public awareness of intelligent design in homes, offices and commercial buildings, has come an increased reliance on bamboo as a building material. Bamboo floors, panels and even bamboo plywood have become essential materials for developers and contractors who are looking to create attractive, sustainable buildings that also deal with problems like noise pollution and ecological calamities.
In fact, in some places around the world, bamboo has become so popular that entire homes, office buildings and schools are now being built out of the stuff.
Bamboo buildings
In Southeast Asia, where the benefits of bamboo have been known for centuries, modern designers have turned to it not just as an added amenity, but as the basis for construction.
Known as "The Green School," a learning center in Bali, Indonesia, was recognized as the 2012 Greenest School on Earth by the U.S. Green Building Council's Center for Green Schools. The sustainable, open-air structure recently graduated its first high school class, and world environmental leaders like former United States Vice President Al Gore were part of the tribute to all that has been accomplished so far.
Sitting at the foot of the Great Wall of China is another example of how bamboo can be the primary building block of a modern structure. Known simply as "The Great Wall House," this home melds beauty, ecological sustainability and the recognition of the importance of integrating structures into their natural environments to create a building that is both modern and a nod to China's history.
Standing up to natural disasters
Eugenius Pradipto, a bamboo structure specialist in Indonesia, advocates for the use of bamboo in buildings in places that, like his homeland, are prone to earthquakes and other natural disasters.
His work, including a church and a cultural center made out of bamboo, has helped make that country one of the world's leaders in bamboo buildings.
Bamboo solving modern problems
Bamboo is not only an excellent option on an environmental level, it can also deal with modern issues like noise pollution. New bamboo panels from Smith & Fong help to cancel out overt noise in open-design office spaces, an issue that has plagued companies as they try to make their workspaces more collaborative.
With problems both manmade and natural always a concern in intelligent design, bamboo is providing a way to solve those issues in a smart, responsible and progressive manner. And as its use spreads around the globe, architects, contractors and designers are finding that bamboo is among the most useful tools at their disposal.