Innovative uses for bamboo in restaurants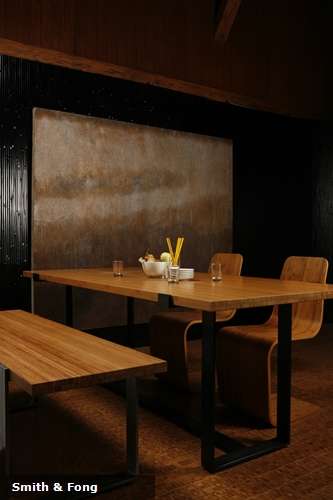 Over the past 15 years or so, restaurants have become some of the most innovative businesses in the world. Whether it's the dishes they prepare, the ingredients they use, the layout of their kitchens or the way they design their public spaces, restaurants across the globe have been pushing the envelope of what modern cuisine is and how it should be experienced.
Among those many innovations, novel approaches to bamboo have been some of the most notable. And it isn't just being used by restaurants serving Asian cuisine. With many remarkable properties that make it beneficial for use as a food product, cooking implement or design element, bamboo has made its way into the consciousness of restaurateurs everywhere.
Not just bamboo shoots
Anyone who has ever scanned a menu at a Chinese restaurant, or most other Southeast Asian restaurants for that matter, has likely come across multiple dishes that include bamboo shoots.
The subtle sweetness and distinctive crunch of bamboo shoots have made them a staple of Asian entrees, soups and side dishes for centuries. Harvested as soon as they emerge from the soil, bamboo shoots are also potassium-rich and low in calories and fat, making them a healthy addition to any meal.
But these days, bamboo is being used in restaurant kitchens in a number of other innovative ways.
New ways to use bamboo in the kitchen
In Catalonia, Spain, the restaurant El Celler de Can Roca recently introduced a new "hot" ice cream dish. And while the dessert itself – which is a baked brioche with ice cream and other fillings inside – doesn't incorporate bamboo in its ingredients, it is a pivotal part of the dish's preparation.
The chefs at El Celler have reconfigured a traditional sandwich press so that it can make the hot-cold treat, while also giving it the moniker Oxymoron Maker II to reflect its new purpose. Designed by artist Andreu Carulla, it is made with stainless steel and bamboo plywood, and was custom-built to bake ice cream brioche.
The bamboo plywood is both a design and practical element of the machine, giving it an elegant look and acting to ventilate the inside of the press so that the heat affects the outer brioche without melting the ice cream.
El Celler's innovation is just one of many cooking apparati being developed around the world that use bamboo, with bamboo cooking pots and steamers being the most common. Restaurants have also turned to bamboo panels and floors for practical and decorative process, making bamboo an increasingly all-purpose material in the culinary industry.