The Living Hinge Collection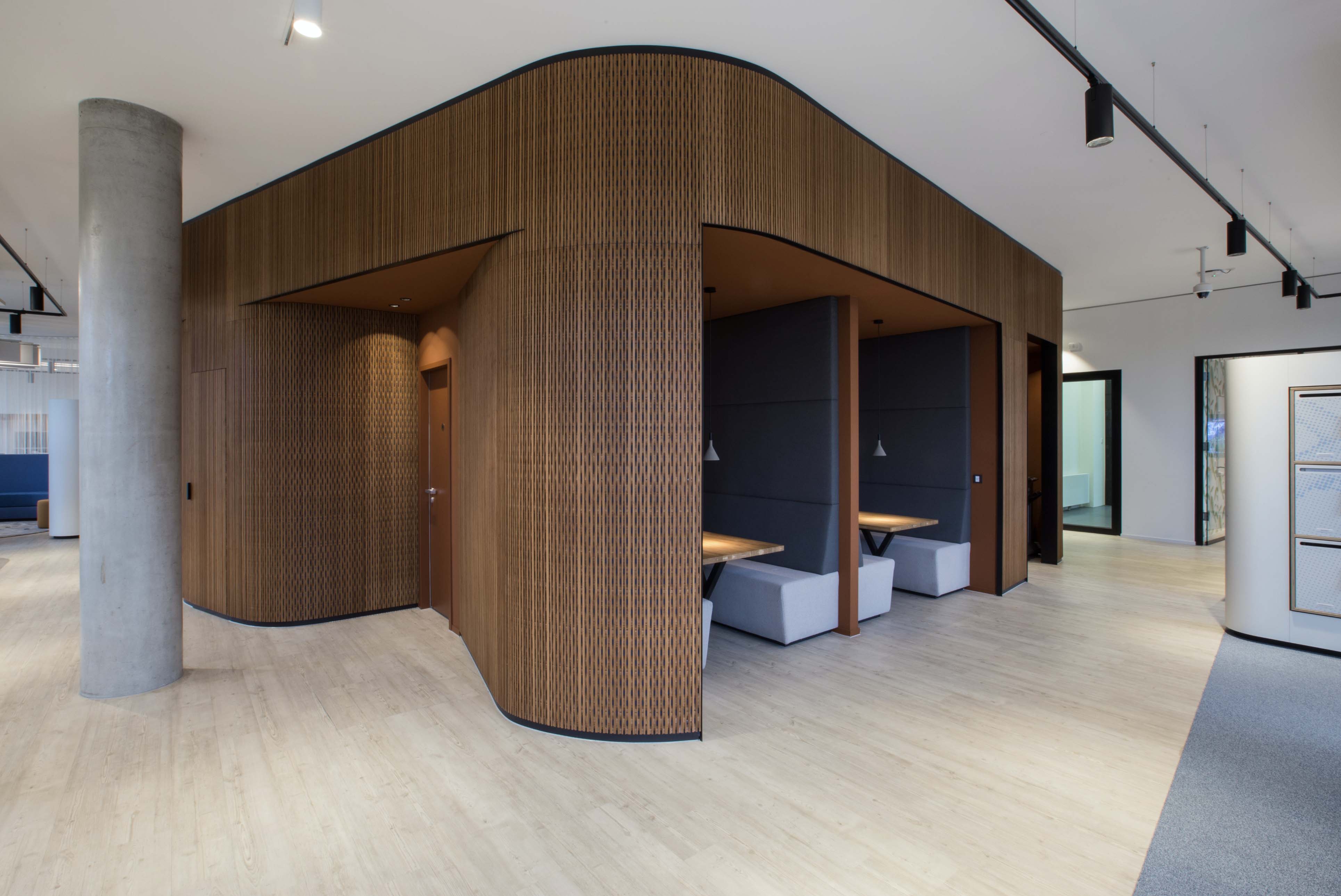 Utilizing the enticing movement and remarkable strength associated with CNC enabled flexible hinge technology, Smith & Fong Company has created The Living Hinge Collection™.  Engineered to allow an otherwise rigid material to flex effortlessly into a 24" radius, Smith and Fong has explored a broad range of scale and depth geometries ultimately leading to a collection of over seven "Uniquely Bendy" designs.
The Living Hinge Collection™ is available in many colors from Natural and Amber to popular gray tones like Fog and Storm.  Functioning as a high performance acoustical panel, the "LH" Collection receives a (Noise Reduction Coefficient) NCR of .7.   Panels can be back lit and used in various unique applications such as walls, ceilings, screens, and columns. Available in Class B
Pictured: Living Hinge Collection: Design: LH-54  Core: RealCore™, Color: Amber 
Dimensions: 1/2" x 47 3/4" x 95 3/4" sheets, with the pattern line matching  
Technical Product Information:
Plyboo Living Hinge Design LH54
Specifications
CSI 3-part specification - Plyboo Living Hinge Collection
Sound Absorption: QuietWall™ Technology
Radius Bend: 24"
Core Composition: RealCore™
Color: Amber
Material: 100% Bamboo
Size: 1/2" x 47 3/4" x 95 3/4"
Weight: 65 lbs
Surface Texture: Prefinished or Unfinished
Fire Resistance Classification: Class C (Class B available)
Noise Reduction Coefficient (NRC): avg. 0.70
Sound Transmission Class (STC): avg. 0.00
Emission Testing - CA Section 01350 Protocol: No VOC's with chronic REL's (reference exposure level) detected; passes office, school, and residential criteria
BP-V4896A/LH54: Carb Phase II Compatible
 
FSC® Certified 100% C012079 The material in this product comes from well-managed forests, independently certified in accordance with the rules of the Forest Stewardship Council™.