Retail Environment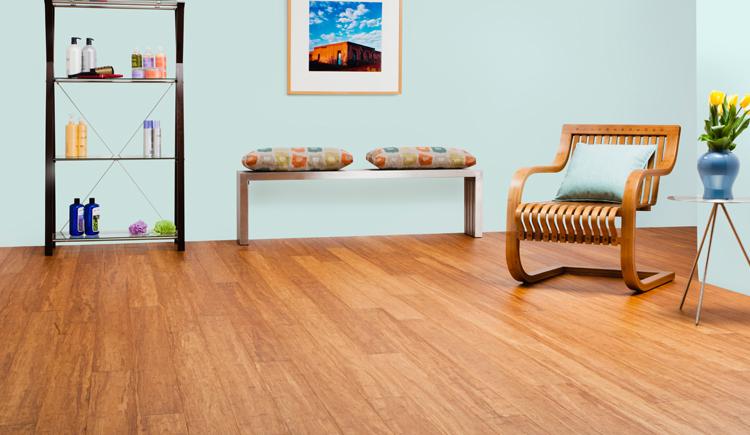 Description:
PlybooFit™ underlayment system is fit for retail by employees fit for work. The PlybooFit system helps relieve leg fatigue by providing an under cushion of comfort.
Our new Stiletto click lock flooring installs quickly and easily with the PlybooQuiet underlayment. Stiletto, our hardest floor available, holds a 3500 psi Janka Ball rating making it perfect for high wear residential or commercial applications.
Strength, beauty and a full palette of colors is proving Stiletto to be our most versatile flooring yet.
Download PDF format
See more details about the products:
Location:
San Francisco, California
Materials:
Amber Stiletto Strand Flooring PlybooFit Floor System with Brushed
LEED Credits:
Possible LEED Credits: IEQc4.3: Low Emitting Materials MRc6: Rapidly Renewable Materials MRc7: Certified Wood CA Section 01350: Passed Other: No added urea formaldehyde
Physical / Mechanical Properties - Stiletto® Strand Bamboo Flooring

Dimensions:

9/16" x 5" x 72"

15mm x 125mm x 1830mm

Installation:

Click-lock over pad

ASTM E648: Critical Radiant Flux

Class 1

ASTM D1037 Dimensional Stability

Linear Expansion: Parallel -0.02%, Perpendicular -0.23%
Thickness Swell: -0.25%
Hardness (Janka Ball Test): 3,500 lbf (avg)

ASTM D2394: Coefficient of Friction

Static Coefficient / Dynamic (Sliding) Coefficient: 0.562 / 0.497

ASTM D3359: Adhesion by Tape Test

Class 4B

ASTM D4060: Taber Abrasion

11,000 cycles average

ASTM: 4442: Moisture Content

6–9% average

ASTM D5116-06: Organic Emissions
[CA Section 01350]:

Classroom scenario / Office scenario: Pass / Pass
Physical / Mechanical Properties - PlybooFit™ Underlayment System

Item

Test

Standard

Rating

Sound Impact Insulation

IIC

ASTM-E492
ASTM-E989

54 (over 6" concrete)
58 (over 6" concrete/6' fiberglass)

Density

Pounds/cubic foot

ASTM-D3676

45pcf

Durometer

Shore A Hardness

ASTM-D2240

45 ±2

VOC's

Closed Chamber
1.0m ±.05 m/3

ASTM D5116

SCQQMD

Flammability

Pill Test
(Methanamine)

DOC-FF 1-70

Passed

Dimensions

1/4" x 48" x 50'

Weights

1 lb /sq.ft. = 200# / roll