Environments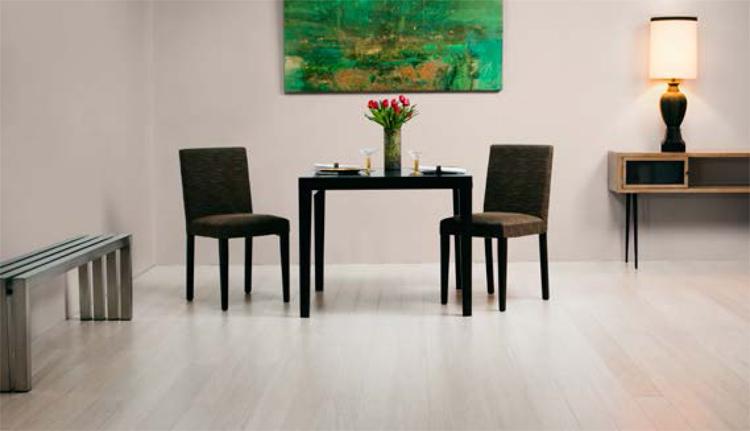 Description:
PlybooQuiet™ underlayment system paired with our new Stiletto click lock flooring makes loud visual statement while reducing inter floor noise by half. Earning a 60 IIC rating with a drop ceiling, PlybooQuiet solves noise abatement requirements.
Our new Stiletto click lock flooring installs quickly and easily when floated over PlybooQuiet underlayment. Stiletto, our hardest floor available, holds a 3500 psi Janka Ball rating making it perfect for high wear residential or commercial applications.
Strength, beauty and a full palette of colors is proving Stiletto our most versatile flooring yet.
Download PDF format
See more details about the products:
Location:
San Francisco, California
Materials:
Brushed Pearl Stiletto Strand Flooring PlybooQuiet Floor System
LEED Credits:
Possible LEED Credits: IEQc4.3: Low Emitting Materials MRc6: Rapidly Renewable Materials MRc7: Certified Wood CA Section 01350: Passed Other: No added urea formaldehyde
Physical / Mechanical Properties - Stiletto® Strand Bamboo Flooring

Dimensions:

9/16" x 5" x 72"

15mm x 125mm x 1830mm

Installation:

Click-lock over pad

ASTM E648: Critical Radiant Flux

Class 1

ASTM D1037 Dimensional Stability

Linear Expansion: Parallel -0.02%, Perpendicular -0.23%
Thickness Swell: -0.25%
Hardness (Janka Ball Test): 3,500 lbf (avg)

ASTM D2394: Coefficient of Friction

Static Coefficient / Dynamic (Sliding) Coefficient: 0.562 / 0.497

ASTM D3359: Adhesion by Tape Test

Class 4B

ASTM D4060: Taber Abrasion

11,000 cycles average

ASTM: 4442: Moisture Content

6–9% average

ASTM D5116-06: Organic Emissions
[CA Section 01350]:

Classroom scenario / Office scenario: Pass / Pass
Physical / Mechanical Properties - PlybooFit™ Underlayment System

Item

Test

Standard

Rating

Sound Impact Insulation

IIC

ASTM-E492
ASTM-E989

54 (over 6" concrete)
58 (over 6" concrete/6' fiberglass)

Density

Pounds/cubic foot

ASTM-D3676

45pcf

Durometer

Shore A Hardness

ASTM-D2240

45 ±2

VOC's

Closed Chamber
1.0m ±.05 m/3

ASTM D5116

SCQQMD

Flammability

Pill Test
(Methanamine)

DOC-FF 1-70

Passed

Dimensions

1/4" x 48" x 50'

Weights

1 lb /sq.ft. = 200# / roll